Andrew Weibrecht: A Champion On and Off the Hill
From local ski hills to the PyeongChang Olympics, the U.S. Ski and Snowboard Association (USSA) encompasses all athletes that share a passion for skiing and snowboarding. We explore what makes each skier and rider a champion with stories from the U.S. Ski Team, U.S. Snowboarding and U.S. Freeskiing, next to kids winning a NASTAR medal, landing their first cork 7 or joining a club team. Alongside USSA's mascot Champ, take a look at how all of these athletes strive to be Best in the World. #WhatMakesAChamp
Andrew Weibrecht (Lake Placid, NY) is a two-time Olympic medalist, but he's also often regarded as one of the most humble, hardworking athletes on the U.S. Ski Team. An East Coast guy with a quiet confidence, you won't find Weibrecht basking in the limelight. But don't be mistaken—Weibrecht's got something special about him. He's understated, cool and calm and in the world of professional sports, it's refreshing to come across athletes like him. There's no question: What Andrew does on the hill is impressive. He's been coined a "big event skier"—an athlete that performs when it matters most—as he has grabbed two medals on the biggest stage of them all, the Olympics. So, what makes Andrew a champion?
When he first made the U.S. Ski Team, Weibrecht was given the nickname "Warhorse." In his early days with the team, he notes that he made up for his lack of experience and skill with "straight-up intensity," earning him that name. And he solidified the epithet in 2007, when he charged to 10th place at the famed Birds of Prey Downhill—one of the most respected, gnarliest downhill tracks on the World Cup circuit.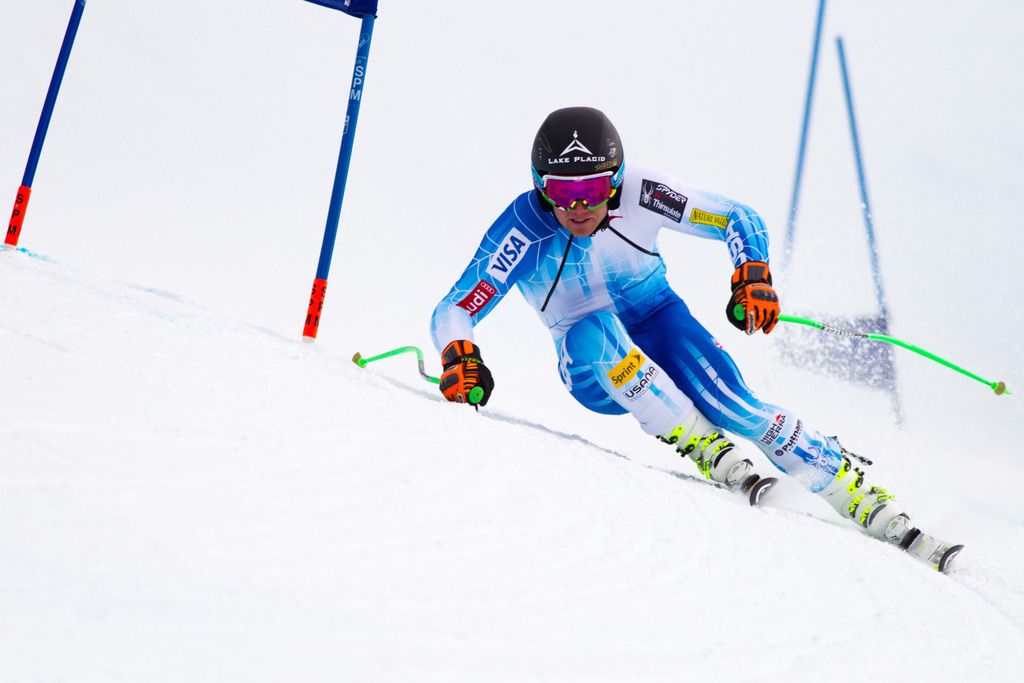 Andrew Weibrecht trains last season. (Cody Downard)
In the years leading up to the 2014 Olympic Games in Sochi, his career was marred by injuries. A fighter who knows what it takes to persevere in unlikely circumstances, these traits helped Andrew overcome adversity to become a champion.
Here's something you might not know about Warhorse, though: In January 2015, in between training camps, holiday time with family and a return to Europe for World Cup competition, Weibrecht took time out of his hectic schedule to visit Paul Newman's Double H Ranch SeriousFun program for the opening day of their 18th year of operation. Double H Ranch, in Lake Luzerne, NY, is a ski and snowboard program with 230 annual campers in the winter program that provides 1,500 lessons for children ages 6-16 who are chronic and seriously ill. The number of instructor volunteers and the robust infrastructure of the program blew Weibrecht away.  
With over 220 volunteer ski instructors, Double H Ranch is the only privatized program of its kind in the country that provides children with the opportunity to rip on skis or snowboards in a positive learning environment. During his visit, Weibrecht not only talked to the campers about overcoming obstacles and achieving success with a powerful "Never give up" message, he also gave the monoski a (somewhat unsuccessful) go, "I tried the sit-ski. I've seen it done a lot. You know, the U.S. Team—those guys absolutely rip—and the kids absolutely rip," he laughed. "And I got on and totally got humbled by it.
A humble champion both on and off of the hill, Weibrecht is now an active Ambassador with the Double H Ranch Ski Program. Giving back is one thing that helps him move forward on a really personal level. "I am excited to work with the Double H Ranch," Weibrecht said. "It's an incredible organization for kids and I'm looking forward to getting more involved with the camp."
Max Yurenda, CEO/Executive Director of Double H Ranch SeriousFun Camp is equally excited about Weibrecht's involvement as ambassador. "On behalf of the entire Double H family, we are proud and excited that Andrew Weibrecht has agreed to be our official ambassador for the Double H Adaptive Winter Sports Program," he said. "The children and volunteer instructors will all gain confidence from their time with Andrew and recognize that their own personal dreams can come true with hard work and determination."
After earning himself some solid downhill results and ending up 12th in the world in super G with his career best World Cup 5th place finish at Kitzbuehel in 2015, he'll be one to keep an eye on in 2016.
Tell us what makes YOU a champion with the hashtag #WhatMakesAChamp.